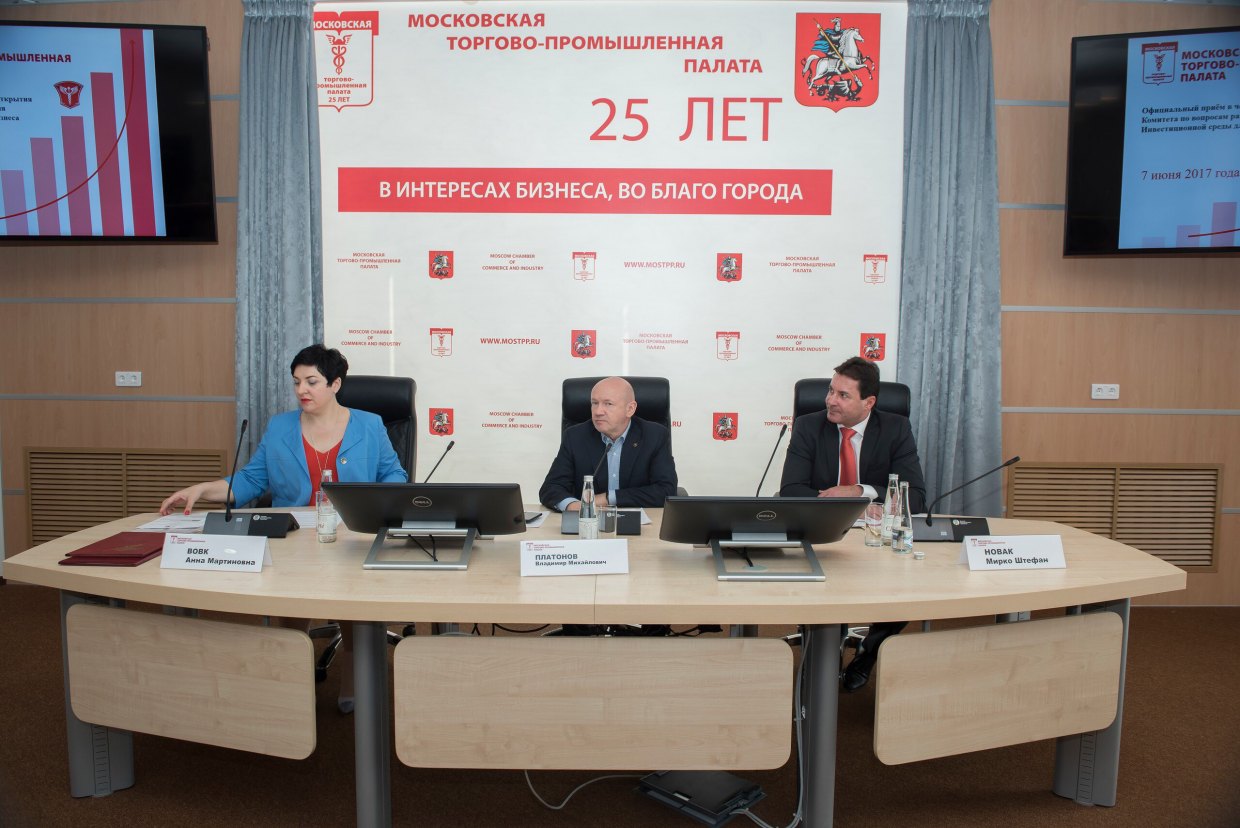 OFFICIAL OPENING OF THE MOSCOW CHAMBER OF COMMERCE AND INDUSTRY'S COMMITTEE FOR BUSINESS INVESTMENT FRAMEWORK
On 7 June 2017, the Moscow Chamber of Commerce and Industry officially presented its new Committee for Business Investment Framework.
The new Committee will focus on easing access to investment for businesses and facilitating efficient implementation of investment programs and projects. The Committee will be shaping and developing an investment environment through establishing new links based on existing development institutions.
A welcome speech was made by Vladimir Platonov, President of the Moscow Chamber of Commerce and Industry, who stressed that, during a transition from planned to market economy, improving legal framework and protecting the business community's interests were of vital importance. In addition, Mr Platonov welcomed any business initiatives to set up new committees and guilds within the MCCI and expressed confidence that joint efforts would bring investments.
"The Moscow Chamber of Commerce and Industry has already brought together a vast number of business people with a successful long-term business background. Law endorses the MCCI's function as a lobbyist of the business community interests. Moreover, the MCCI runs its own arbitration for settling conflicts, an expert review centre and a business school. No other platform providing a one-stop-shop service can boast such a unique set of skills and opportunities. Most importantly, it does not create new administrative jobs – a comprehensive framework is in place and running successfully. In fact, all the government can do is not interfere and promote similar business community self-organization efforts by making them known to a broader audience.
Implementing the objectives of the Business Investment Framework Committee will provide significant support to businesses and stimulate corporate lending. It will also contribute to bridging an information gap between the business community and investors providing them with information on cooperation options," said Anna Vovk, the Committee Chair.
Among other event speakers were Vitaly Stepanov, head of the Department for Industry Development Support of the Moscow City Agency for Industrial Development, and Mirko Novak, chair of the Eastern Europe Committee of the Hamburg Commerce and Industry Chamber.